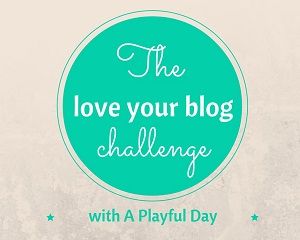 My blog has been on the go since 2007.  Over the 8 years it has changed direction and focus many times, and when Ripples Crafts came into being I boldly stated that I would not really be including anything about the business on the blog.  Well I didn't exactly nail that claim!  But there are times I wonder if anyone reads the blog any more at all.  I know my family do, of course (you do, don't you family?!) but did anyone else read it?  Blogs seems to have been on the decline for the last little while and I have to admit that even my own interest in blogs had waned.
So my curiosity was piqued when I saw Kate, AKA
A Playful Day
, talk on Twitter about her
Love your Blog Challenge
.  I do love my blog and I enjoy writing it - most of the time.  But maybe I needed a fresh look at it.
The first topic that Kate suggested we think about was "Interactions and Community".  Well this subject is one that, those of you who read my blog will know, is right up my street.  It is only a week or so ago that I wrote
an entry
about the name Ripples Crafts.
For most of my life I have lived in circumstances where the community was of paramount importance.  My early years were spent living in a remote location in Zimbabwe where one depended on the help and support of your neighbours - even if the nearest neighbour was a few miles away.
[caption id="attachment_8138" align="aligncenter" width="640"]
Dad on his Fergie[/caption]
My parents were running a farm linked to a school, and many of the teachers were single women who had gone out to Zimbabwe from the UK and other parts of Europe into a world that was as different to their home as anything they could have imagined.
Looking back I always think about how brave my parents were to do what they did, but I can't imagine, even in present times, going to such a remote and alien location as a single woman.  They all influenced the community they lived in and in some cases their influence spread worldwide.  The lady 4th from the left became the international leader of a world wide organisation, the Salvation Army, but we just knew her as Aunty Eve.   All brave women who were prepared to rely on, and contribute to, the community to which they ventured.
Thinking about it, both Stevan and I have always gravitated towards living in places where there is a sense of community.  I can't imagine what it is like living in a place where you don't know your neighbours.
But, and it is a big But, community doesn't just happen.  It takes work.  In some cases hard work.  It takes interaction.  If you choose not to interact, be it in your physical location or in an online location such as Twitter or Ravelry, then you will never become part of a community.  (There are exceptions and I touch on this further down) Quite often I see people join Twitter, but they don't "follow" anyone.  What this means is that they will see nothing in their Twitter feed except their own Tweets.  Which, to me, is a little bizarre.   Community interactions are happening all around them, yet they choose not to be involved.  To be part of a community you need to join in.  Talk to others.  Interact!  Join in the conversation - sometimes the most astonishing things happen when you do.
By being part of the "Yarny Community", I have had the most wonderful experiences.  Things I never expected to happen, have.  For example, retreats on a tiny, tiny island off the west coast of Scotland, which have bought me into contact with some of the loveliest people I know.  I could not have imagined that would be an outcome of starting a hand dyed yarn business, and yet because of the community I have come to know through my business, it was.  I love this photo from a retreat a couple of years ago as it epitomises the range of interactions from hilarity through to what looks like an awfully serious conversation, all in a tiny community:
The fact that I have a hand dyeing business at all is largely down to the very first lesson I had in dyeing from Lindsay Roberts, aka
The Border Tart
,  (2nd from the left in the above picture).  She was so full of enthusiasm it spilt over and quickly influenced me - and there was no looking back after that.
Being part of a community also brings responsibility.  And that includes offering to help others on the periphery to engage with their new community.  Although it sometimes appears that folk are choosing not to interact or "join in", it may simply be because they are nervous or don't have the experience of interacting with others, usually strangers.  It may not necessarily mean they are aloof or standoffish.  So it is important to remember when you are inside a community make sure you don't only look IN, but look OUT - see those on the outskirts looking in at you.   Because when you do
that
then exciting things can begin to happen.
Thank you
Kate
for setting up this challenge.  I can't promise to participate every week, but thank you for beginning with a topic which is so dear to me.